Anise White Wine Cookies
These Italian cookies have a delicate anise flavor, and you can taste the wine too. They are like crunchy sugar cookies and are super easy to make. These cookies make a great accompaniment to a glass of wine or a cup of tea.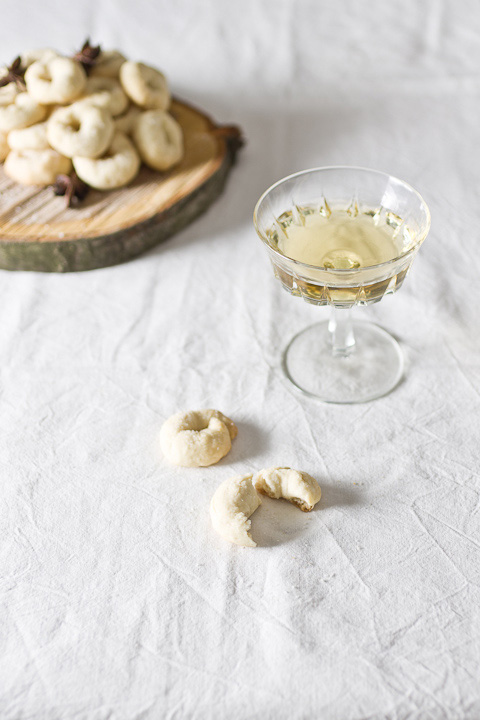 Category: Cookies
Cuisine: Italian
Recipe in PDF format (print friendly)
Makes 50-60 cookies
Prep time: 30min
Cook time: 20min
Total time: 50min
Difficulty: Basic
Ingredients
1 teaspoon anise seeds
240ml white wine
440g all-purpose flour
2 teaspoons baking powder
pinch of salt
170g granulated sugar + more for coating cookies
125ml sunflower oli + more for brushing cookies
Directions
Preheat oven to 180°C. Line 2 baking sheets with parchment paper. Lightly crush anise seeds, add them to wine, and let them soak for 5 minutes. Meanwhile, combine flour, baking powder, and salt. Add sugar and stir to combine. Make a well in the center of the flour mixture. Add the oil and wine (discard anise seeds). Stir with a wooden spoon, or use your fingertips to bring the dough together. Knead a few turns. To shape the cookies, take approximately a walnut-sized piece of dough and roll it into an 8-10cm long strip. Join the edges together to form a ring and transfer to a baking sheet. Repeat with the rest of the dough. Brush cookies with oil and sprinkle with granulated sugar. Bake cookies until just lightly golden brown on the bottom, about 20-25 minutes. Let them cool and store in an airtight container for two weeks.
Additional images