Chocolate Hibiscus Truffles
These elegant-looking truffles have a nice and crisp chocolate coating and a rich and creamy interior. The richness of dark chocolate is wonderfully balanced with a slightly tangy and fruity flavor of hibiscus.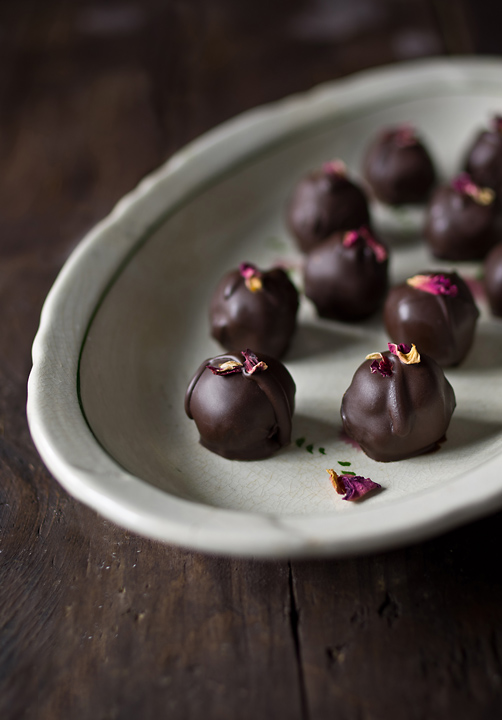 Category: Petit fours & candies
Recipe in PDF format (print friendly)
Makes about 40 truffles
Prep time: 30min + chilling time
Cook time: 5min
Total time: 35min
Difficulty: Basic
For the Chocolate hibiscus truffles:
Ingredients
260g bittersweet chocolate, finely chopped
180ml heavy cream
3 teaspoons dried hibiscus flowers
1 tablespoon butter
1 teaspoon Grand Marnier
Directions
Place the chopped chocolate in a heat-resistant bowl and set aside. In a small, heavy-bottomed saucepan, combine the cream and hibiscus flowers. Bring the cream just to a boil and remove it from heat. Cover with a lid and allow to steep for 30 minutes. The cream will be a rich red color, and you should feel the aroma of hibiscus. Add the butter and bring the mixture to a boil again. Add Grand Marnier, strain and pour over chocolate pieces and let this sit for a few minutes until the chocolate is melted. Using a whisk, gently stir the cream and the chocolate together until combined. You should get a thick and smooth ganache. Cover the bowl with plastic wrap and chill in the refrigerator until completely set, about 2 hours. Using a melon-baller or a teaspoon, scoop out chocolate balls from the chilled ganache. Roll the balls between the palms of your hands quickly and place them on a baking sheet lined with parchment paper. Refrigerate for another 30 minutes, or until firm.
For the Chocolate glaze:
Ingredients
200g bittersweet chocolate, chopped finely
4 tablespoons oil
dried hibiscus flowers, to garnish
Directions
Melt the chocolate and oil on a double boiler (bain-marie). Remove from heat, transfer to a small bowl and leave it to cool for a couple of minutes. Dip the chocolate balls into the melted chocolate one at a time, letting the excess chocolate drip off. Place the truffles on a parchment-lined baking sheet and top each one with a dried hibiscus flower. Refrigerate until set. Remove the truffles from the refrigerator at least 20 minutes before serving.
Additional images