Chocolate Orange Ruffle Cake
Chocolate and orange are epic together, and this cake transports the combination to a whole new level. What stands out in this recipe is the moist chocolate cake. I used Martha Stewart's recipe, and it's the best I've tried so far. I recommend that you bake the cake layers the night before. Once the cakes are cooled to room temperature, wrap them tightly in plastic wrap and refrigerate overnight. It's much easier to trim the cakes and level them out when they are cold and firm. The cakes will grow substantially, especially in the middle, so trimming the tops is a step you shouldn't skip. To decorate the cake with ruffles, you will need a medium-sized petal tip (such as #104 Wilton tip) and a steady hand. There is a great video tutorial over at My Sweet & Saucy. Alternately, you could ice the cake and decorate it with some chocolate shavings.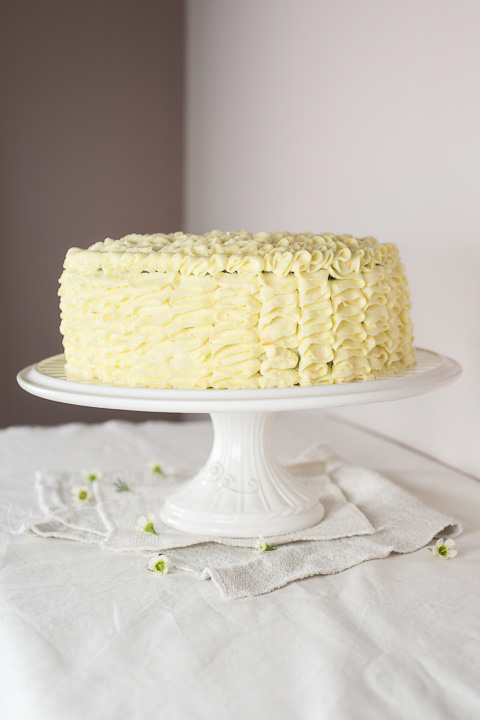 Category: Cakes
Recipe in PDF format (print friendly)
Makes one 24cm cake
Prep time: 1h + chilling time
Cook time: 1h
Total time: 2h
Difficulty: Intermediate
For the Moist chocolate cake:
Ingredients
175g cocoa powder
375g all-purpose flour
1 1/2 teaspoon salt
1 tablespoon baking soda
1 1/2 teaspoon baking powder
670g sugar
180ml vegetable oil
360ml buttermilk
1 teaspoon vanilla extract
3 large eggs
360ml hot water
Directions
Preheat oven to 170°C. Butter the bottom and sides of two round 24cm cake pans. Line the pans with parchment paper and butter the paper. Dust the pans with cocoa and tap out extra. Sift cocoa and flour into a large bowl. Add baking soda, baking powder, salt, and sugar and stir to incorporate. Beat in oil, buttermilk, vanilla, eggs, and hot water one at a time, using a mixer set at low. Beat until smooth, about 2 minutes. Pour the batter into pans and bake 40-45 minutes or until a toothpick inserted into the centers comes out clean. Rotate the pans halfway through the baking time. Do not overbake the cakes, or else they get crumbly. If you don't have two identical cake pans, bake the first half of the batter and invert the cake onto a cooling rack. Clean the cake pan, prepare it the same way as earlier and bake the other half of the cake batter. Cool the cakes completely before trimming the tops (the cakes will rise in the middle, and you'll have to level them). It's best to do that with a serrated knife. The results are even better if you wrap the cakes in plastic wrap and refrigerate overnight. It's much easier to trim the cakes when they a cold and firm.
To moisten the cake:
Ingredients
1/2 orange, juice and zest
1tablespoon sugar
1 tablespoon dark rum (optional)
Directions
Combine orange juice, orange zest, and sugar in a small pot. Cook on medium heat until sugar is dissolved and some of the liquid has evaporated. Remove from heat and stir in the rum. Let it cool a bit before moistening the cake layers.
For the Chocolate orange ganache filling:
Ingredients
300ml heavy cream
300g dark chocolate, chopped
2 tablespoons butter
1 teaspoon orange zest
1 tablespoon Grand Marnier (optional)
Directions
IIn a small saucepan, bring cream just to a boil. Remove pan from heat and add chocolate, butter, orange zest, and Grand Marnier. Let ganache stand for 3 minutes and whisk until chocolate is melted and the ganache smooth. Chill in the refrigerator for about 30-40 minutes, just until the ganache reaches a silky spreadable consistency. Place one cake cut side up on a cake stand and moisten it. Spread the chocolate filling evenly over the cake. Moisten the cut side of the second cake and place it cut side down onto the filling. Gently press with the palms of your hands and refrigerate for at least 30 minutes before frosting the cake.
For the Orange icing:
Ingredients
500ml milk
80g cornflour
5 tablespoons sugar
2 tablespoons vanilla sugar
1 vanilla pod, seeds scraped out
1 1/2 orange juice and zest
1 tablespoon Grand Marnier (optional)
200g softened butter
Directions
In a small bowl, combine cornstarch with 3-4 tablespoons of milk and stir until you get a thick but smooth mixture. Set aside. Pour the remaining milk into a saucepan together with vanilla seeds and vanilla pod. Heat until it starts to boil, remove from heat and cover with a lid. Let it steep for 10 minutes. Strain the milk through a sieve to discard the vanilla and return to the saucepan. Add sugar and vanilla sugar and cook until it reaches boiling point. Now slowly add the cornstarch mixture into the milk, stirring constantly. Cook for a few minutes or until it thickens (it should resemble a custard). Remove from heat, transfer to a bowl and cover with plastic wrap. Set aside to cool completely. Add orange zest, orange juice, and Grand Marnier to the cold custard and beat with a mixer until incorporated. In a separate bowl, beat the softened butter until creamy. Combine it with the custard and beat it all together until smooth and creamy. Frost the bottom and sides of the cake or decorate it with ruffles. For the ruffles, you first need to crumb coat your cake, and then pipe ruffles using a medium-sided petal tip (such as #104 Wilton tip).
Additional images