Chocolate Raspberry Muffins
These muffins are every chocolate lover's dream. They're moist, chocolatey, and absolutely delicious. It's best to use fresh raspberries in this recipe, but you could also use frozen ones when they're out of season. Just make sure you drain them well, or else the muffins could be soggy and mushy. You might even have to cook them a couple of minutes longer, too, just to make sure they're cooked all the way through.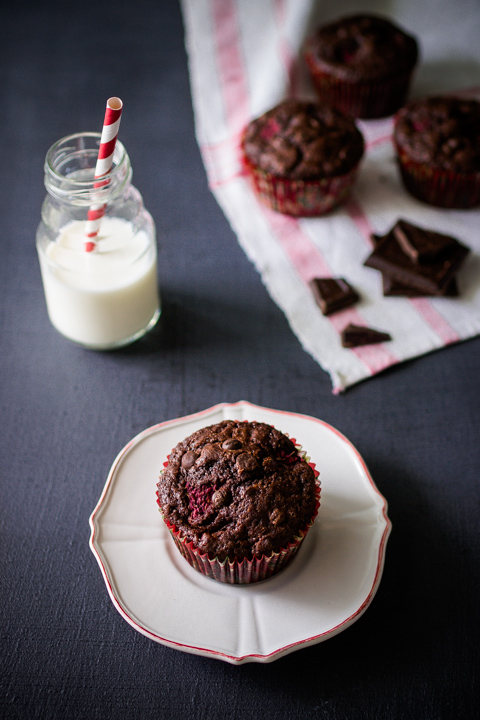 Category: Muffins & cupcakes
Recipe in PDF format (print friendly)
Yields 12 muffins
Prep time: 15min
Cook time: 20min
Total time: 35min
Difficulty: Basic
Ingredients
160g all-purpose flour
30g cocoa powder
130g caster sugar
1/4 teaspoon salt
2 teaspoons baking powder
1 egg
80ml neutral oil
80ml milk
120g sour cream
120g raspberries
80g dark chocolate chips
Directions
Preheat oven to 180° C. Line a regular 12-cup muffin pan with paper baking cups. Set aside. In a large bowl, whisk together flour, cocoa powder, sugar, salt, and baking powder. In a separate bowl, whisk together egg, oil, milk, and sour cream. Pour wet ingredients into dry ingredients and stir until just combined. Fold in the raspberries and 2/3 of dark chocolate chips. Spoon batter evenly into prepared baking cups. Top with remaining raspberries and the rest of the dark chocolate chips. Bake 20 minutes or until a toothpick inserted in the center of each muffin comes out clean.
Additional images