Creamy Avocado Spaghetti
This delicious avocado pasta whips up in no time. The avocado sauce is smooth, creamy, healthy, and nutritious. The recipe is vegetarian, but it can easily become vegan if you omit the grated Parmesan cheese at the end.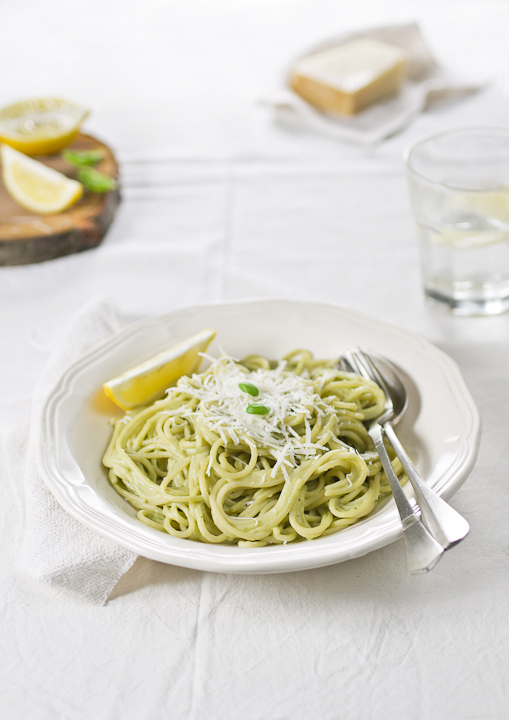 Category: Pasta, rice & grains, Vegetarian
Recipe in PDF format (print friendly)
Serves 4
Prep time: 5min
Cook time: 10min
Total time: 15min
Difficulty: Basic
Ingredients
400g dried spaghetti
2 ripe avocados, peeled and pitted
juice of 1 lemon
1/2 teaspoon lemon zest
2 garlic cloves, roughly chopped
2 tablespoons olive oil
2 tablespoons chopped fresh basil
1/2 teaspoon sea salt
some freshly ground pepper
3-4 tablespoons pasta cooking water
lemon wedges, to serve
grated Parmesan cheese, to serve
Directions
Cook spaghetti in a pot of boiling salted water according to instructions. In the bowl of your food processor or blender, combine avocado, lemon juice and zest, garlic, olive oil, basil, salt, and pepper. Process untill smooth and creamy. Give it a taste and add more salt or lemon, depending on your taste. Add pasta cooking water to thin the sauce out a little bit. Process until nice and creamy. The sauce should be the consistency of thick yogurt. Add some more water, if necessary. Drain the pasta and stir the avocado sauce into it. Serve with lemon wedges and freshly grated Parmesan cheese.
Additional images