Grilled Asparagus with Lemon Anchovy & Garlic Bread Crumbs
This dish is so quick and easy to make! You can serve it as a side dish or even an appetizer, and if you top it with an oozing poached egg, it makes a perfect light lunch on a hot summer day.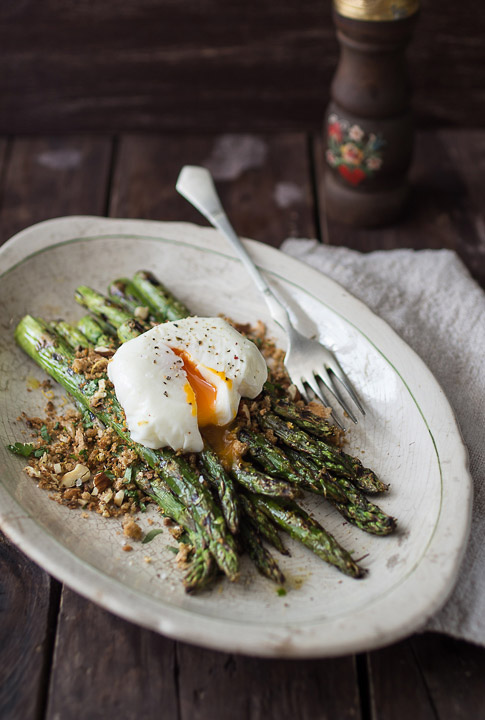 Category: Salads & sides, Vegetarian
Recipe in PDF format (print friendly)
Serves 2 as a side dish or 1 as a light meal
Prep time: 5min
Cook time: 10min
Total time: 15min
Difficulty: Basic
Ingredients
1 bunch (about 500g) asparagus, trimmed
2 tablespoons extra virgin olive oil
1 slice whole wheat bread (preferably a day old)
1 anchovy fillet, minced
1 small garlic clove, minced
zest of 1 lemon
sea salt to taste
freshly ground black pepper
1 tablespoon roughly chopped toasted almonds
1 tablespoon chopped fresh parsley
2 poached eggs, optional
Directions
Put the asparagus on a sizzling hot grill pan. Cook until tender, about 5-6 minutes, turning often. Meanwhile, blitz the bread in a food processor until you get nice crumbs. Heat 1 tablespoon of the oil in a large skillet over medium heat. Add the bread crumbs, occasionally stirring, until the bread crumbs are browned and toasted for about 2 minutes. Stir in the anchovy, garlic, and a pinch of salt and sauté until fragrant, about 2 minutes longer. Add the lemon zest, chopped almonds, and parsley and season with black pepper, then transfer the mixture to a small bowl. Transfer the asparagus to a serving plate, drizzle with the remaining tablespoon of olive oil, and season with salt and pepper. Spoon the bread crumbs over and top with poached eggs, if desired.
Additional images