Pasteli - Greek Sesame & Honey Candy
Pasteli are popular Greek chewy energy snacks made with sesame seeds and honey. There are many variations of this candy, and most of them also include nuts. You can use any nuts or seeds you like, from almonds and pistachios to flaxseed and pumpkin seeds. Just make sure that the honey and seeds/nuts ratio is 1:1. The recipe was adapted from Souvlaki For The Soul.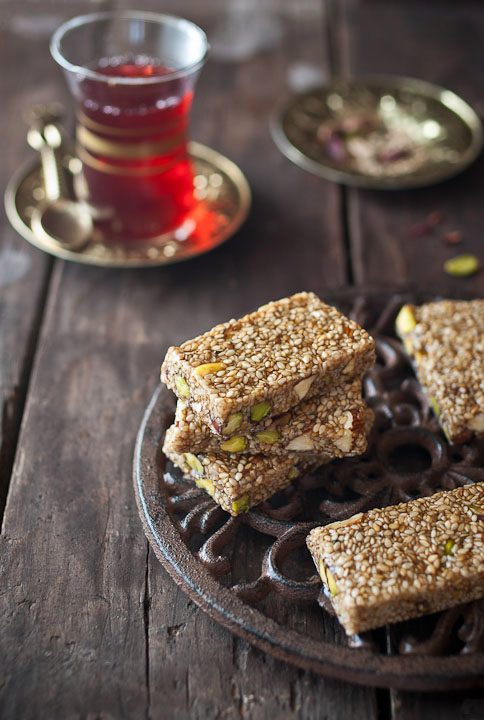 Category: Petit fours & candies, Bars & squares
Cuisine: Greek
Recipe in PDF format (print friendly)
Yields 20-25 bars
Prep time: 5min
Cook time: 15min
Total time: 20min
Difficulty: Basic
Ingredients
200g raw sesame seeds
50g raw pistachios
50g raw almonds
300g honey
1/4 teaspoon salt
Directions
Line a baking pan (25x15cm) with parchment paper, making sure you cover both the bottom and sides. In a small saucepan, heat the honey until it's pourable. In a separate large pan, combine sesame seeds and nuts and toast them for 3-4 minutes. Pour warm honey over seeds, add salt and mix through. Cook the mixture without stirring over moderate heat until the honey turns a golden brown color and is completely absorbed, about 10 minutes. Pour into the lined pan and smooth the top with a spoon. Cool completely at room temperature. Once cooled, cut the pasteli into individual bars. Store in an airtight container, making sure each layer is separated by a sheet of baking paper (this prevents sticking).
Additional images