Pear and Gorgonzola Tarts
These tarts are great both as an appetizer or a simple and light main meal.  For a special romantic dinner, add slices of prosciutto and some toasted walnuts and serve with a glass of wine.  These tartlets can be a great party food too. Make them smaller and serve as small bites for your guests. You can also turn them into one regular-sized tart.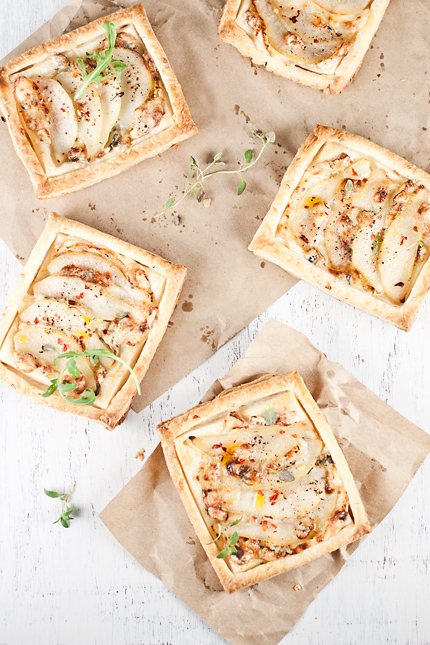 Category: Appetizers & snacks, Tarts & quiches
Recipe in PDF format (print friendly)
Yields 6 mini tarts
Prep time: 30min
Cook time: 30min
Total time: 1h
Difficulty: Basic
Ingredients
250g puff pastry
1 tablespoon butter
2 pears, peeled and thinly sliced
4 thyme springs
80g Gorgonzola cheese
some sea salt
freshly ground pepper
pinch of chili flakes
Directions
Preheat the oven to 220°C. On medium heat, melt the butter, add pears and saute for 5 minutes. Add thyme sprigs and cook for 2 minutes, gently tossing the pears around the pan. Remove from heat and allow to cool. On a piece of parchment paper, roll out the pastry into a rectangle approximately 3mm thick. Divide the pastry into 6 smaller rectangles, approximately 8x10cm each. To make a border around the tarts, score each rectangle with a sharp knife about 1cm from the edge. Prick the bottom (middle) of the pastry with a fork. Transfer the tarts with the parchment paper onto a tray. Arrange some crumbled Gorgonzola cheese on each tart shell and top with pear slices. Sprinkle generously with sea salt and freshly ground pepper, and add a pinch of chili flakes on each tart.
Bake for 15-20 minutes or until the pastry is crispy and golden brown.