Pumpkin Cupcakes With Cinnamon Frosting And Candied Pepitas
Instead of butter, this recipe uses oil, which makes the cupcakes super light and moist. You can use canned pumpkin or make your pumpkin puree. Candied pepitas are optional, but they make a nice crunch and compliment the cupcakes beautifully. The recipe makes more candied pepitas than you will need for the cupcakes, but they store well and can be served as a snack.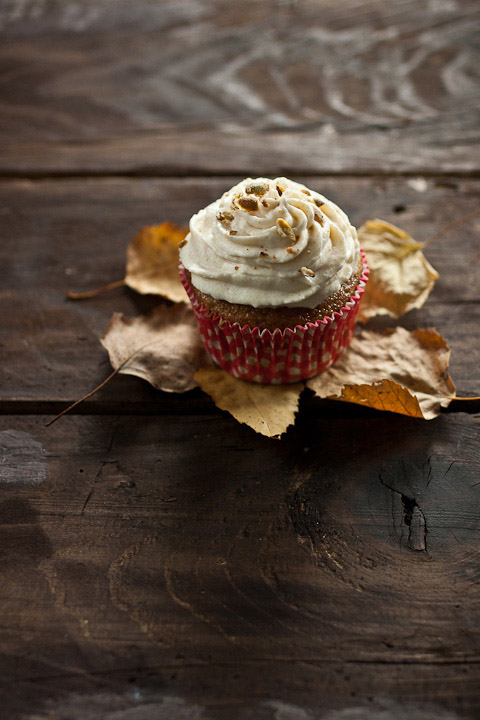 Category: Muffins & cupcakes
Recipe in PDF format (print friendly)
Yields 10-12 cupcakes
Prep time: 30min
Cook time: 30min
Total time: 1h
Difficulty: Basic
For the cupcakes:
Ingredients
140g flour
1 teaspoon baking powder
1/2 teaspoon baking soda
1 teaspoon cinnamon
1/2 teaspoon ground ginger
1/4 teaspoon nutmeg
1/4 teaspoon cloves
1/2 teaspoon salt
2 eggs
80g sugar
80g light-brown sugar
60ml neutral oil
200g pumpkin puree
Directions
Preheat the oven to 350­°C. Line a cupcake pan with paper liners. In a medium bowl, combine flour, baking powder, baking soda, cinnamon, ginger, nutmeg, cloves, and salt. In a large bowl, whisk together eggs, sugar, light-brown sugar, and oil. Add dry ingredients and whisk until smooth. Whisk in pumpkin puree. Divide the batter among liners, filling each about halfway. Bake for 20 minutes, or until a wooden skewer comes out clean. Transfer the cupcakes to a wire rack and let them cool completely.
For the cinnamon cream cheese frosting:
Ingredients
200g cream cheese, at room temperature
55g butter, softened
5 tablespoons powdered sugar
1 teaspoon cinnamon
Directions
Place cream cheese and butter in a bowl. Using an electric mixer, beat until pale and smooth. Gradually add icing sugar, beating until combined. Finally, mix in cinnamon.
For the candied pepitas:
Ingredients
1 egg white
180g pepitas
3 tablespoons white sugar
3 tablespoons brown sugar
1/2 teaspoon salt
1 teaspoon cinnamon
1/4 teaspoon nutmeg
Directions
Preheat the oven to 180°C. Line a baking sheet with parchment paper. Whip the egg white until frothy. Add pepitas and mix them in until they are all evenly coated. In a separate bowl, combine the sugars, salt, cinnamon, and nutmeg. Dump the mixture onto the pepitas and mix thoroughly until pepitas are all evenly covered. Spread evenly onto the lined baking sheet. Bake for 10 minutes. Stir once halfway through. Let cool completely and break apart any pieces that have stuck together. Store in an airtight container. Sprinkle on cupcakes or serve as a snack.
Additional images