Pumpkin Parmesan Bread Rolls
This recipe was adapted from The Abel & Cole Cookbook. The original recipe calls for some chopped black olives, but I didn't have them on hand. If you have a jar of black olives at your disposal, try and put some into these rolls. I bet they'll taste great!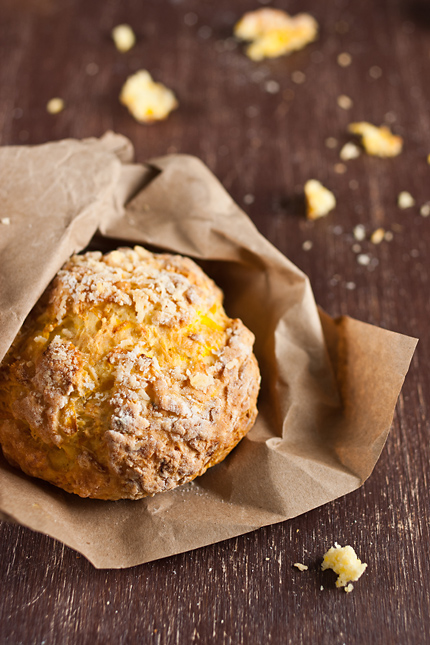 Category: Quick breads
Recipe in PDF format (print friendly)
Makes 4 rolls
Prep time: 15min
Cook time: 30min
Total time: 45min
Difficulty: Basic
Ingredients
120g pumpkin or squash, grated
190g all purpose flour
10g baking powder
30g + 2 tablespoons grated Parmesan cheese
1/2 teaspoon salt
1 tablespoon chopped fresh rosemary
2 eggs lightly beaten
1 tablespoon milk
Directions
Preheat the oven to 190°C. Lightly grease a medium-sized baking pan. In a big bowl, combine grated pumpkin, flour, baking powder, salt, rosemary, and 30 grams of Parmesan cheese. Add the eggs and milk and mix with a wooden spoon. The dough will be quite wet and somewhat sticky. If necessary, add some more flour so you can shape the rolls. Divide the dough into 4 equal portions and transfer each to the baking pan. Lightly flour your hands and shape the dough pieces into 4 round patties. Sprinkle then with some flour and the rest of Parmesan cheese. Bake for 25-30 minutes or until nicely browned. Remove from oven, slightly cool on a wire rack, and serve warm.