Salted Chocolate & Honey Caramels
For this recipe, it's best to use a candy thermometer. To get the right consistency and texture, the caramel and chocolate mixture should reach the temperature of 120°C.  The recipe was adapted from Ebba's cuisine.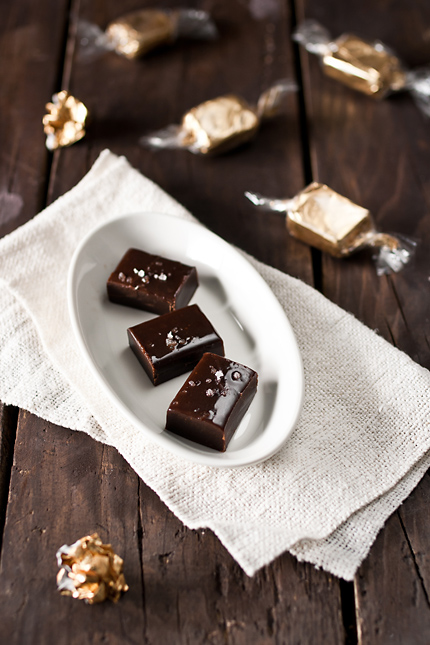 Category: Petit fours & candies
Recipe in PDF format (print friendly)
Makes 40 caramels
Prep time: 20min
Cook time: 15min
Total time: 35min
Difficulty: Intermediate
Ingredients
200ml heavy cream
250g sugar
100g honey
10g butter
200g dark chocolate (70% cocoa)
1 teaspoon fleur de sel (or coarse sea salt)
Directions
Combine sugar and cream in a saucepan and put it on medium heat. Once it starts to bubble, cook for 5 minutes. Add chocolate, butter, and honey and continue to cook on medium heat, stirring continuously for 10 minutes or until it reaches 120° C on a candy thermometer (firm-ball stage). Transfer the chocolate mixture to a 20x20cm shallow dish lined with parchment paper. Sprinkle with salt and refrigerate for 20-30 minutes or until firm. Cut the caramels into small pieces. If your knife sticks to the caramels, brush it lightly with neutral oil. That will prevent sticking.