Spaghetti with Olives and Sun Dried Tomatoes
This pasta dish is one of those easy and quick meals that you can pull out of your sleeve in a moment of crisis. You don't need any fresh ingredients for this recipe, just some standard pantry ingredients that you probably already have. If you don't have Chèvre, you can substitute any other mild fresh cheese or skip the cheese altogether.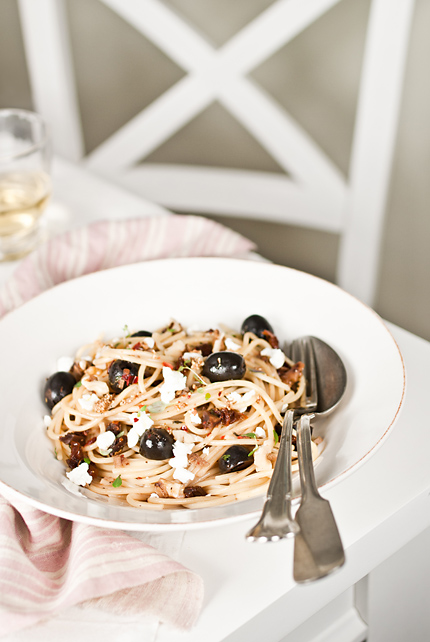 Category: Pasta, rice & grains
Recipe in PDF format (print friendly)
Serves 2
Prep time: 10min
Cook time: 25min
Total time: 35min
Difficulty: Basic
Ingredients
200g dried spaghetti
2 garlic cloves, minced
1 red chili pepper, finely chopped
5 sun dried tomatoes in oil, chopped
100ml white wine
3 tablespoons black olives, pitted
6 basil leaves
3 thyme springs
2 tablespoons toasted walnuts, roughly chopped
50-100ml pasta water
some salt and pepper
60g Chèvre (fresh goat cheese)
Directions
Cook pasta in a saucepan of boiling salted water following the package directions until al dente. Reserve about 100ml of the cooking water. Drain spaghetti and keep them warm. In the meantime, heat a tablespoon of olive oil in a non-stick pan. Add garlic, chili, and sun-dried tomatoes. Cook for a couple of minutes, then add olives (you can half them if you wish), season with salt and pepper, and add white wine. Cook on medium heat until the alcohol evaporates. Add pasta water and cook for a few more minutes until the sauce reduces a bit. Add fresh herbs, walnuts, and drained spaghetti. Cook for another minute, just to warm up the pasta. Serve immediately sprinkled with crumbled Chèvre.