Steamed Mussels with Saffron Sauce
When buying mussels, make sure they don't smell fishy. You should be able to smell the sea. Discard those whose shells are cracked or open or any that refuse to close their shells when you tap them. Those are likely dying or dead. Cook the mussels the same day, preferably within 2 hours after buying them. If you have to store them, place them in a bowl and cover them with a damp towel so they can breathe.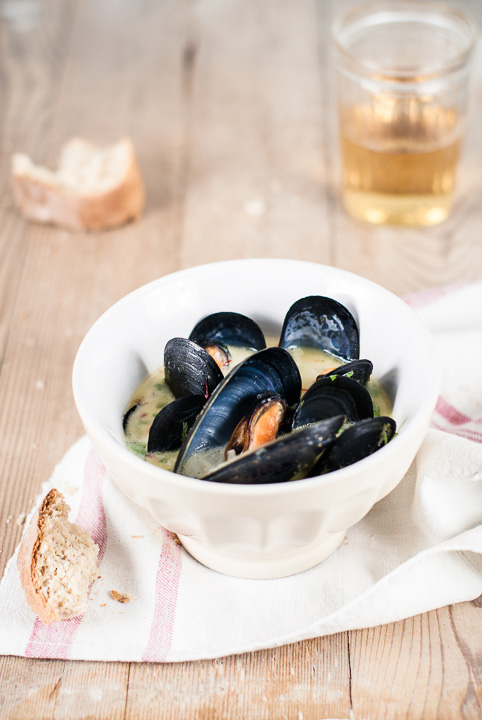 Category: Fish & seafood
Recipe in PDF format (print friendly)
Serves 2
Prep time: 10min
Cook time: 20min
Total time: 30min
Difficulty: Basic
Ingredients
1/2 teaspoon saffron threads
1 tablespoon hot water
2 tablespoons olive oil
1 shallot, finely chopped
2 garlic cloves, finely chopped
150ml dry white wine
1kg mussels, scrubbed and bearded
100ml heavy cream
1 tablespoon chopped parsley
Directions
Soak saffron in hot water in a small bowl. Heat oil in a large saucepan over medium heat. Add shallots and garlic and cook for 5 minutes or until soft. Add wine and bring to the boil. Increase heat to high. Add mussels, cover, and cook, shaking the pan occasionally, for 5 minutes or until mussels open. Transfer mussels to a bowl and set aside. Discard any unopened mussels. Bring liquid to the boil and cook for 5-10 minutes or until reduced slightly. Add saffron and cream and bring to the boil. Stir through mussels to reheat and sprinkle with chopped parsley. Divide mussels among plates and pour over the sauce. Serve immediately with fresh crusty bread and a glass of wine.
Additional images