Zavajul
Zavajul is a traditional dessert from Dubrovnik. It is a simple egg custard made with prošek, a dessert wine typical for the south of Croatia. If you can't get prošek, use Marsala or a similar dessert wine instead. This is a simple but elegant dessert. It is, however, very rich, so it's best served in small portions. Serve it with some fresh fruit to cut through the richness. Zavajul cannot be made ahead. It is best served immediately or within the next couple of hours. The recipe was taken from What's Cooking in Dubrovnik by Ana-Marija Bujić.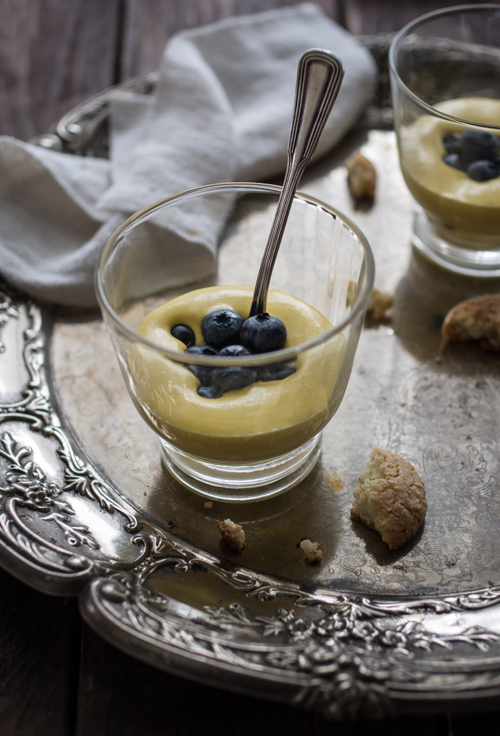 Category: Croatian cuisine, Mousses, creams & ice creams
Cuisine: Croatian
Recipe in PDF format (print friendly)
Serves 6
Prep time: 5min
Cook time: 25min
Total time: 30min
Difficulty: Basic
Ingredients
150ml prošek or dessert wine such as Marsala
5 tbsp sugar
5 egg yolks
200ml heavy cream
fresh fruit for garnish
Directions
Heat the prošek on low heat, just so it's lukewarm. It mustn't boil. In a double-boiler, beat the sugar and egg yolks until they turn white and double their volume. Place the double-boiler over the heat and gradually add the prošek while whisking constantly. Keep whisking until the mixture is thick. You will know it's done if the mixture doesn't fall off when you lift the whisk. In a separate bowl, beat the heavy cream until soft peaks form. Gently fold it into the eggs. Pour into glasses, decorate with fruit and serve immediately. If you're not serving right away, garnish with fruit just before serving time.
Additional images